Been a few weeks since I bought the CBthou, haven't had much time to get out, but first impressions of first 680 miles. Chose the + version about £1k more but gives about £1.5k worth of goodies & useless extras.
Motor. Amazingly, beautifully, creamy, smooth. Absolutely no fueling glitches or hesitations, no vibes...twist the grip, dial in as much or as little as you want. Throttle response instant...no cable back lash as it has the ride by wire thingy. Properly civillised. Power delivery isn't linear though. The torque kinda comes at you in 3 gob loads. You get that initial punch when you nail it from standstill, smooths out, give it more and you get an another kick up to about 85-90mph...then if you keep on it... comes in again, a harder and a bit mental until silly o'clock. Addictive. Add quickshifter-autoblipper for sh*t & giggles, pin it and laugh like a lunatic. Way more power on tap than I can properly exploit. Love it.
Fuel economy, dunno, about 45mpg I think? Tank appears to be much smaller than say the Hornet9. Has this stupid gizmo thing that stops you putting the fuel nozzle right into the tank.
Clocks & modes and stuff . Easy to read (sh*t eyesight here) iPod easy, very intuitive to alter settings. Bit too much going on with the modes imho. Fully adjustable riding modes to suit your individual riding style, can be fine tuned to more or less any setting you want. I've just plonked mine into sport mode and left it. Seems to do the business.Very clear, much like a car I suppose, but not overly busy. There are idiot lights on the dash to help you ride more efficiently (bwahahahaaa) but can be switched off. One negative on the clocks though...when the sun is behind you, the flat mirrored black LCD screen acts like a mirror..can be a blinding bastard at times. Should have used a non reflective convex cover imho. I've been told there are sticky on screen covers that fix this.
Lights. LCD ones...everwhere. Bright as bright. Brilliant (ha!) Front indicators stay on (seppo style) Rear indicators flash hazards automatically when you hump on the brakes to avoid that c**t who's just pulled out on you.
Suspension & steering. Early days yet, but doesn't seem to get flustered, soaks up the worst of poor road surfaces. Forks are nice and progressive, and seem well damped. The ride quality is v plush when compared to the Tuono I had. Back end can get a little bouncy, maybe not enough rebound dampening? Dunno...we'll see. It steers precisely, very easy to pick a line, and you have to be doing stupid things to upset it. No steering damper, don't think it needs one. Loads of ground clearance, took the 3" hero blobs off. They looked a bit stupid. Took the passenger pegs off at the same time...they looked stupid too.
Brakes. Loverly. Got the ABS. Tried it out in anger a few weeks back, (sheep-car-sheep-sheep- car on
racetrack
road) No drama or crisis, just got on with the job of stopping the bike. Hard to tell it's there. Very impressed. Nice feel at the lever, very progressive, little effort needed, no snatch. Rear brake, as good as anything else I guess.
OEM tyres, Bridgestone somethings..grip a plenty.
Ergos. Loverly. Plenty of leg room, I'm 5'10" with 31" inseam. Both feet on floor ok. Slight reach to the bars, cants a bit of weight over the front end. I like this..a lot. Weight on wrists is vfr like, but wider apart obviously. Overall, a really nice place to be, all day comfortable, certainally good for 150 miles to fueling/break/stretch. Although looks small, be a comfortable bike for big bastards. Lots of legroom, and easier on the knees than the Aprilia or a Speedie I demmo'd.
Lack of screen (Got the tiny thing over the headlight) could be a problem for those big Motor Way days. OK up to mid 90's. After it gets lairy wind wise. Do most of my riding sub 80 so should be ok fingers crossed.
Looks. The 'elephant in the room' innit? You either love it or hate it. When I bought it, to be honest, was unsure. Bit different from anything else out there (Vitpilen exepted) but has some lovely styling touches. Seems the more I see/use it, the more I like it. Build quality is amazing with exception of exhaust. 9/10 . Alongside a r9t the Beemer looks boring. Parked up, it attracts more attention than any other bike that I've owned. Old blokes and kids do double takes walking past. Initially, I hated the rear numberplate holder thingy, but having had time to look at it properly, it gives the rear a beautifully 'tucked up' look. Was planning to put a tail tidy on..now not so sure. Will see. Mirrors look like ants antennae, but they're easily swapped. Bar ends for the win I recon.
Overall I love it. (up to now) Nowhere near the 'character' of the Tuono, but it's a nicer and easier bike to ride quick. Has all the performance I'll ever need, with a degree of comfort, which is ok by me given my ageing form. Ha..it's like a 2 wheeled Lexus.
Few pics:
In all it's glory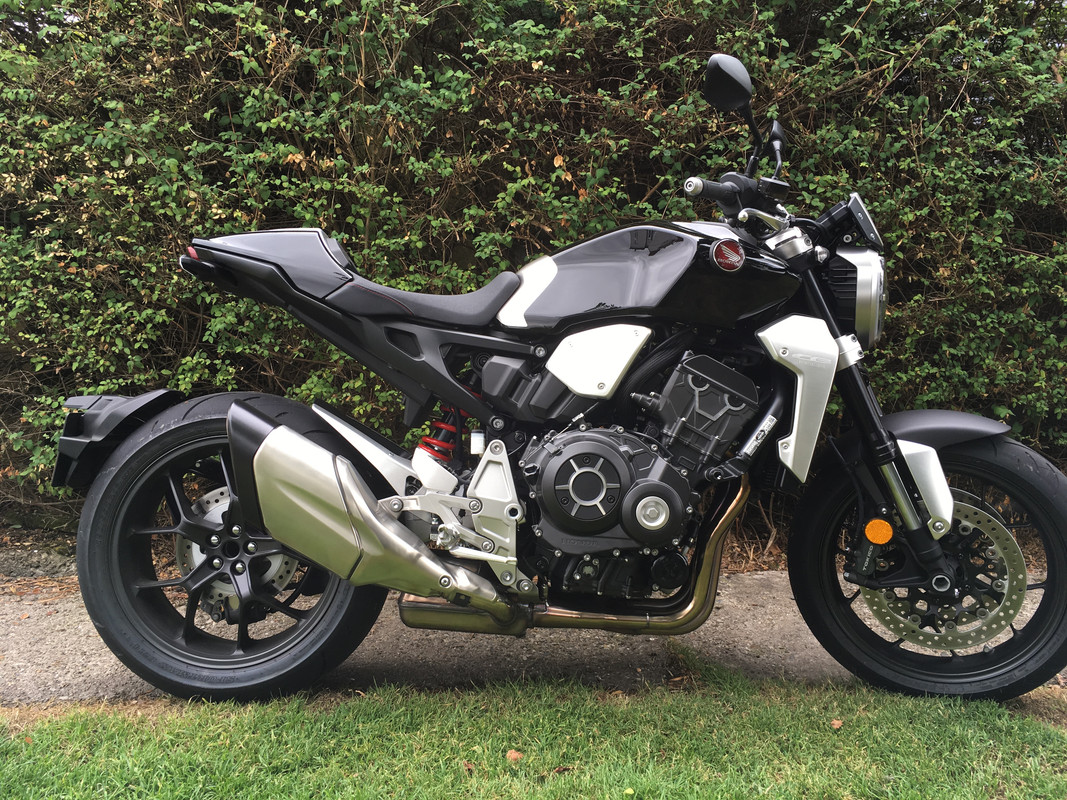 Love the tucked up rear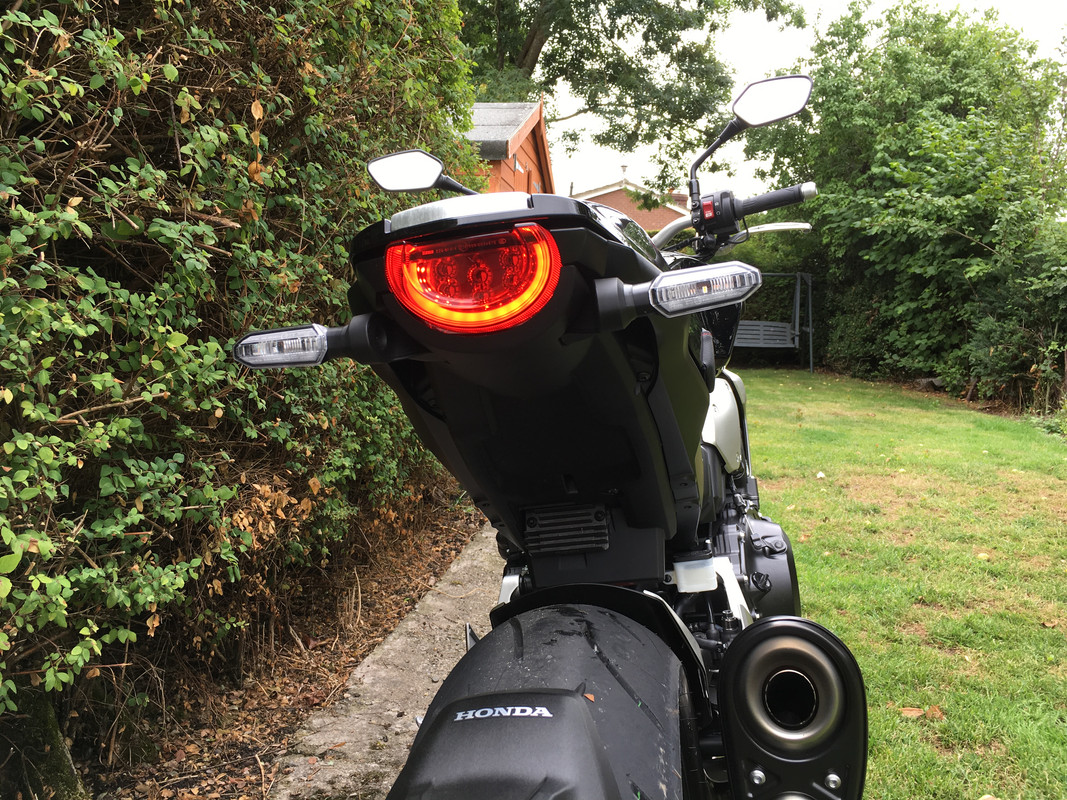 Headlight & 'ahem' screen...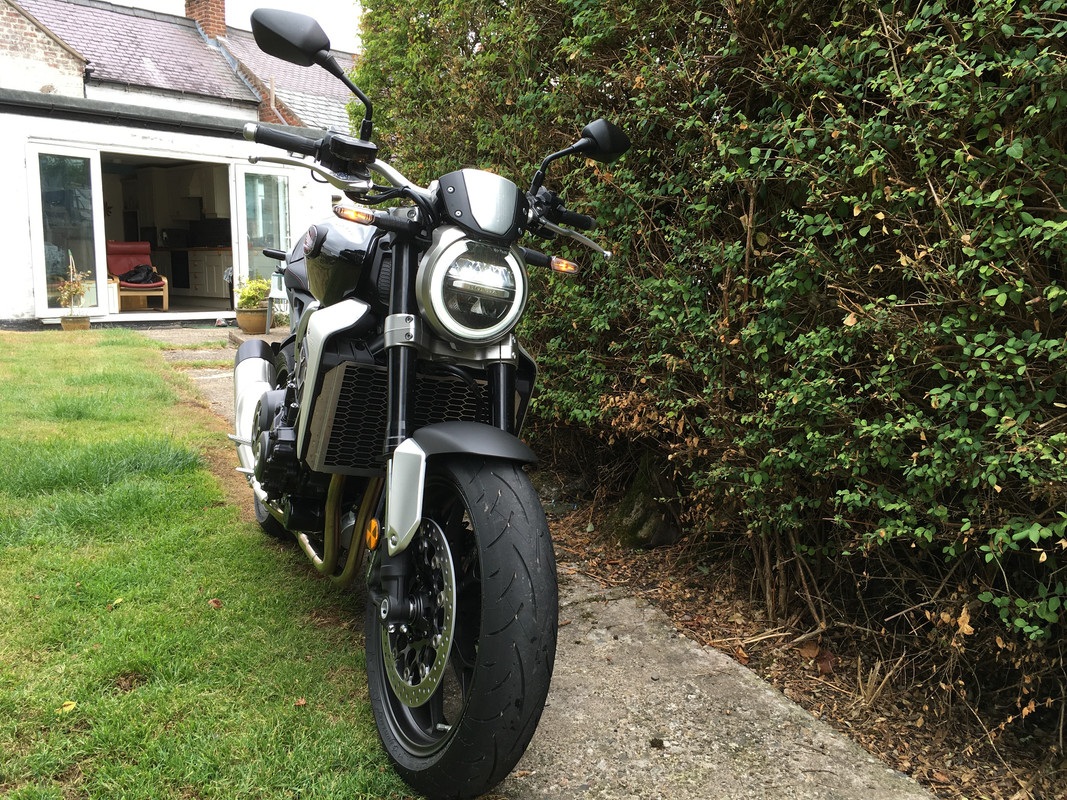 Bit of engine detail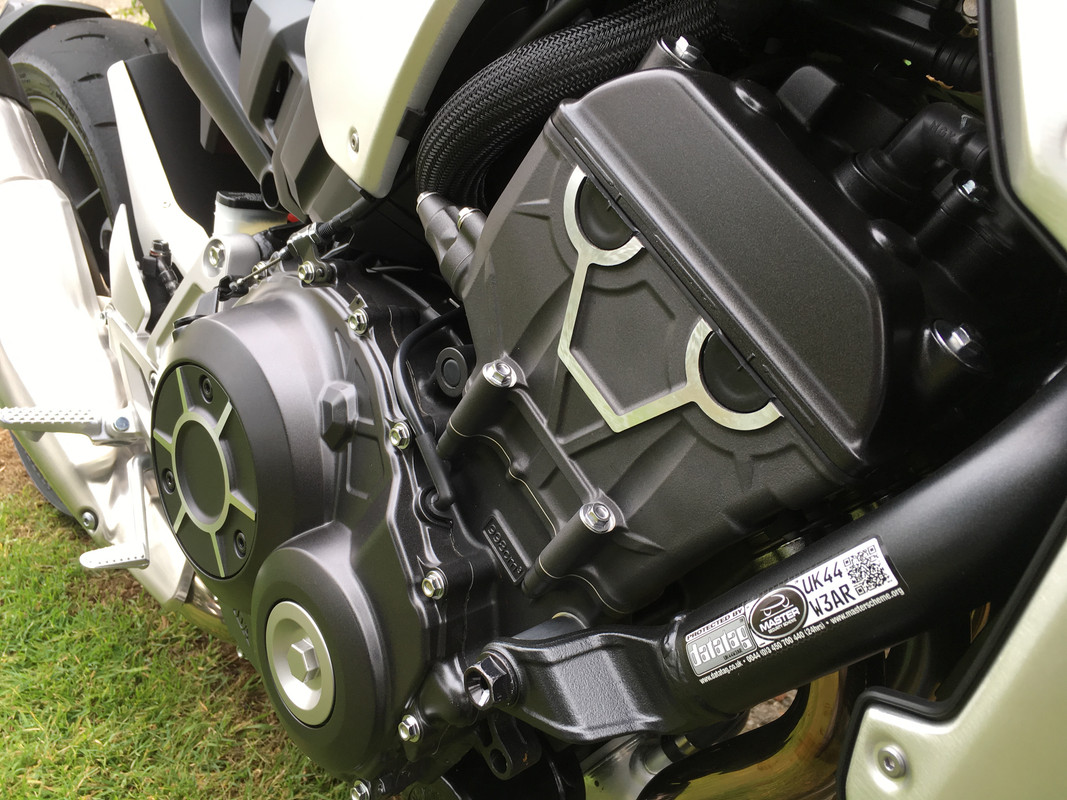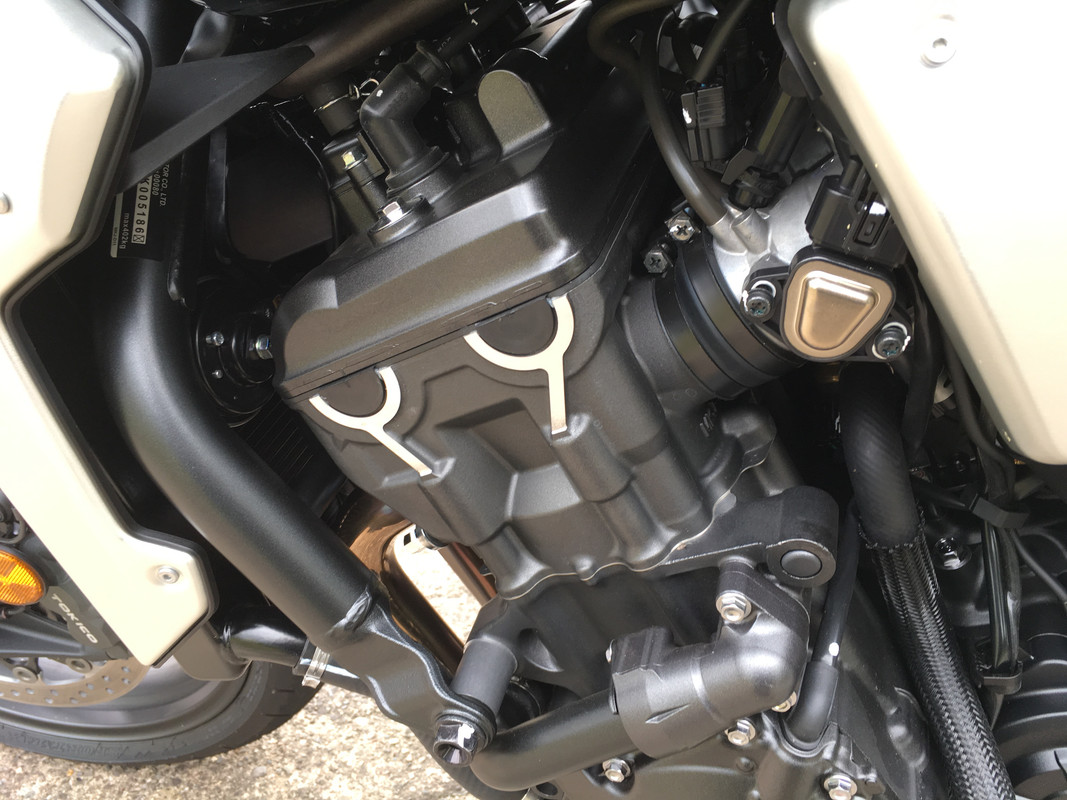 Back wheel & hub...never owned a SS swingarm....not sure yet, but quite like the wheels.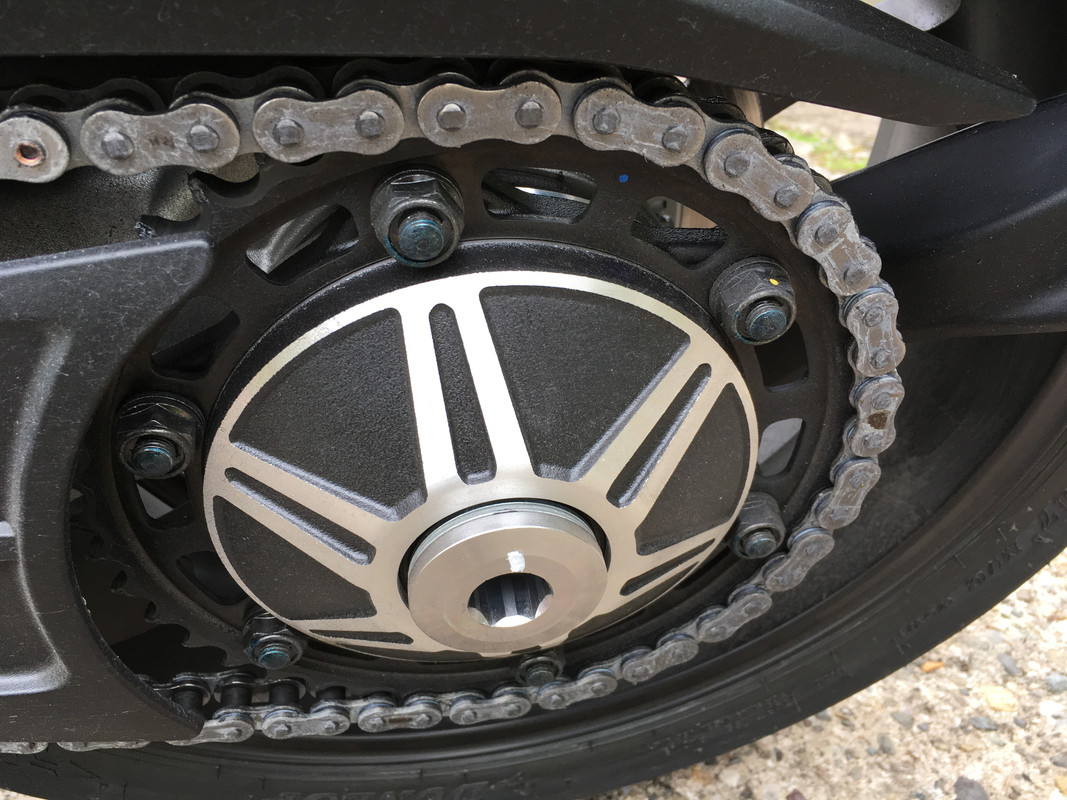 Silencer looks like a broken cricket bat...will be swapped out for summat small & sexy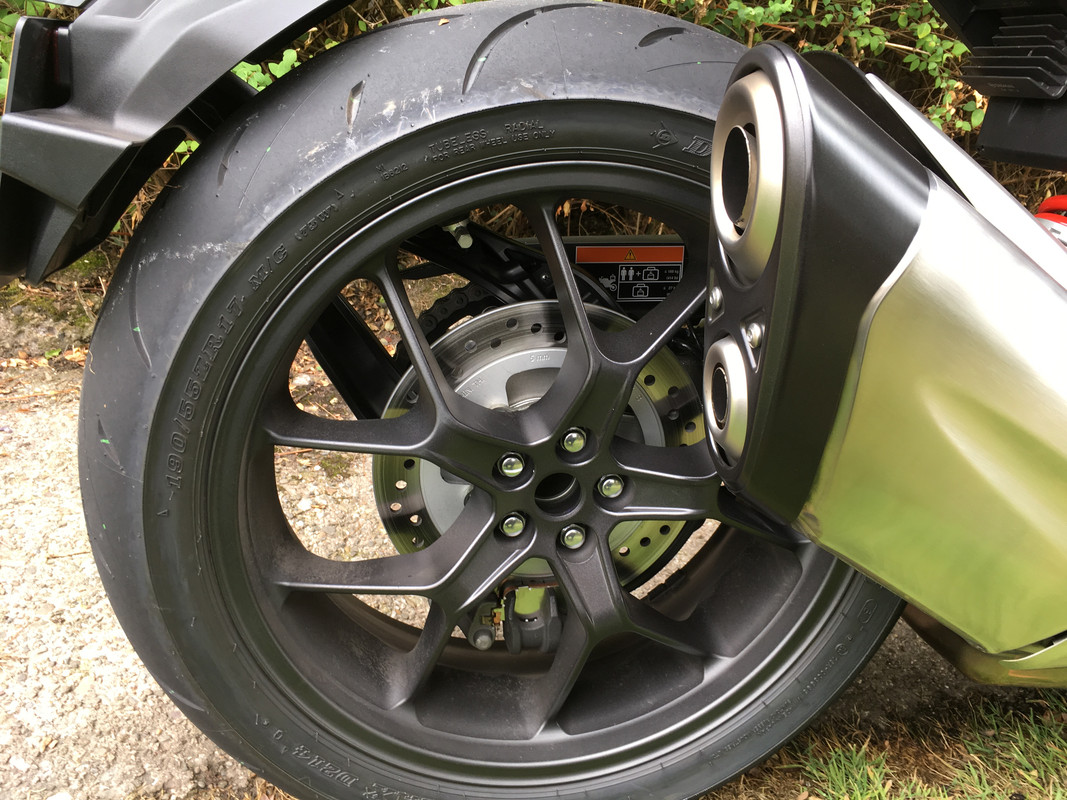 Bread bin....part of the bike I'm not happy about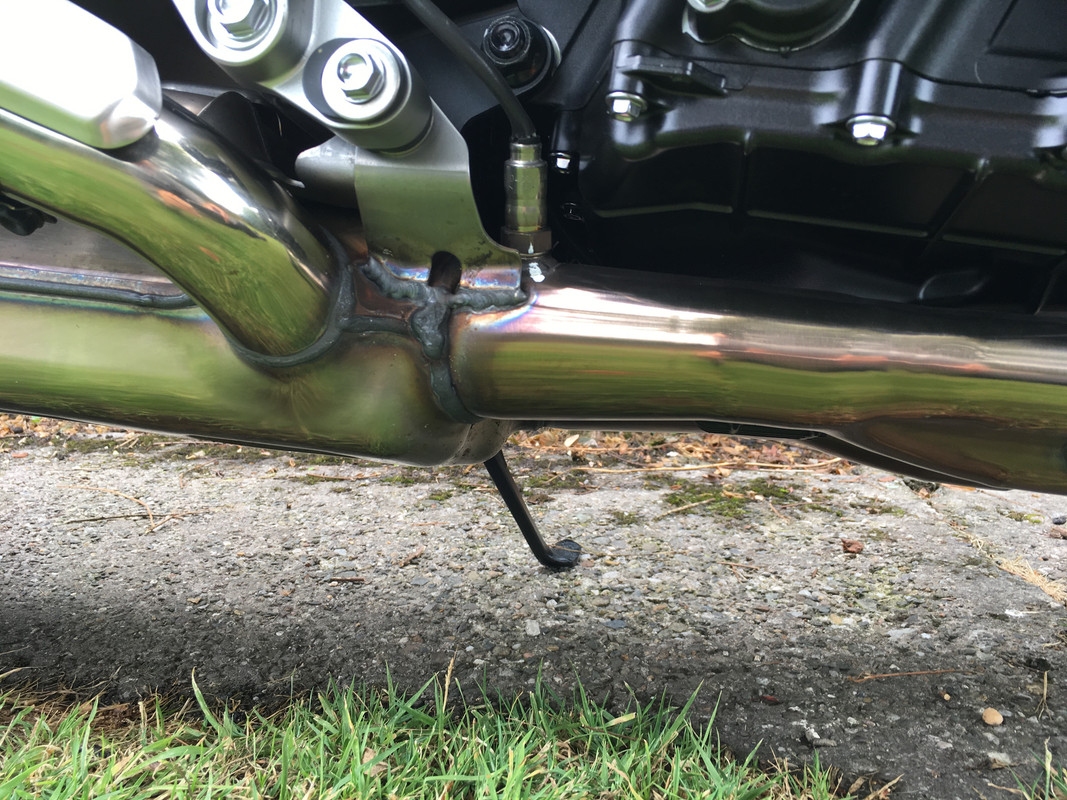 Welding done by a 5 year old....hahaha...f**king shocking...will be talking to dealer...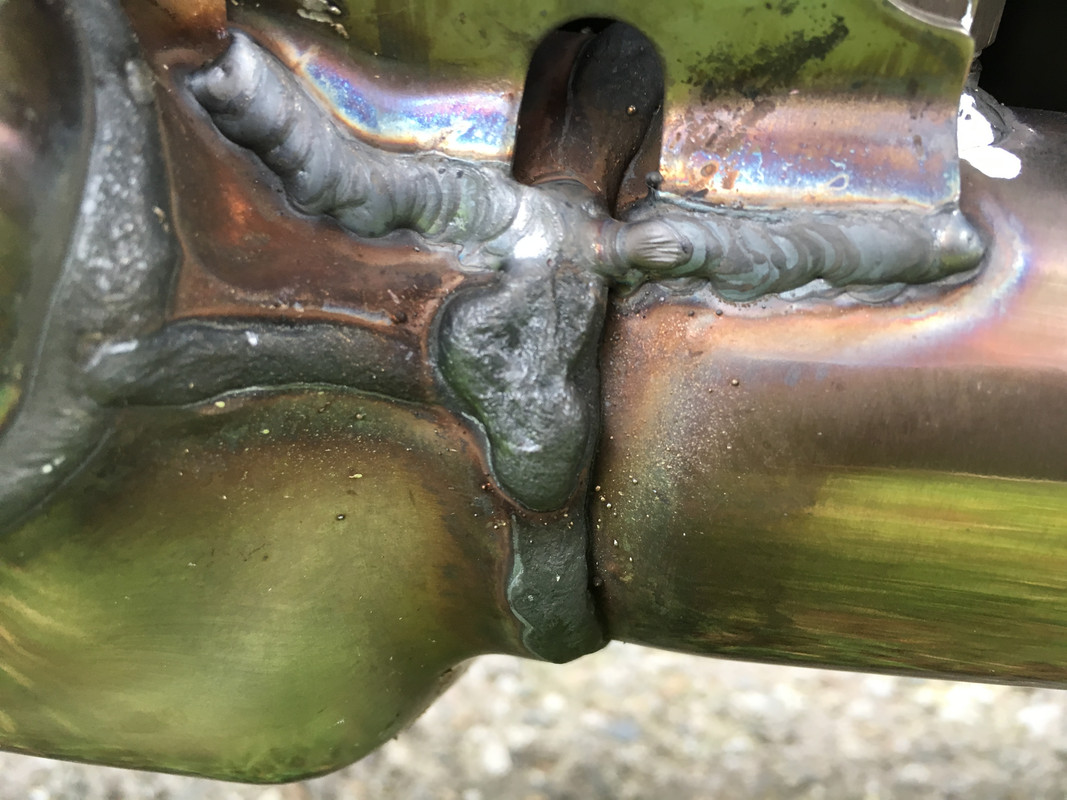 Clocks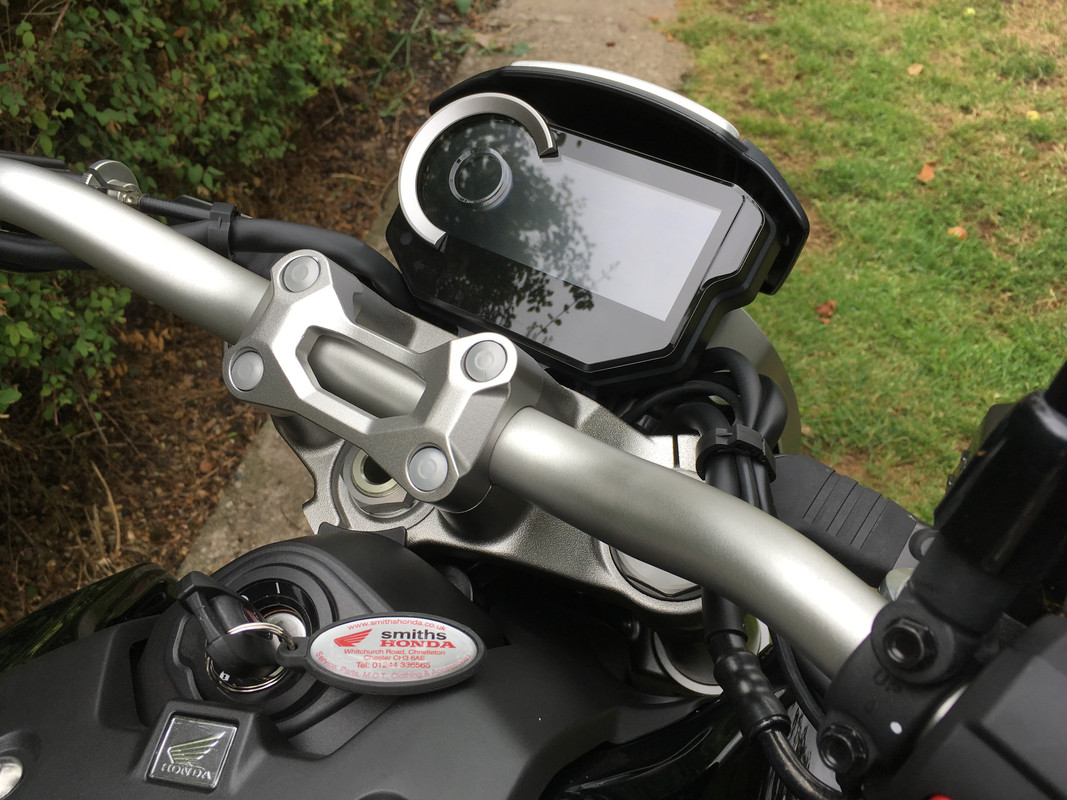 Quick-shifter/blipper thingy....bestest fun ever....